USEUCOM, Finnish Defence Forces Joint Statement
Northern Europe Chiefs of Defence met in Helsinki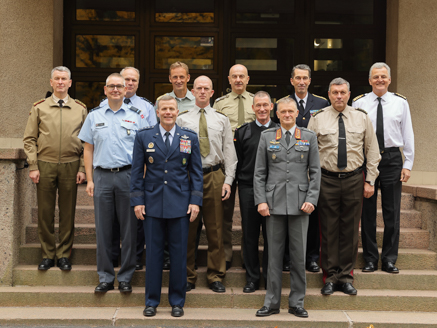 The U.S. European Command and Finnish Defence Forces held the Northern Europe Chiefs of Defence Conference Sept. 29-30, 2021 in Helsinki Finland.
Gen. Timo Kivinen, commander of the Finnish Defence Forces, and U.S. Air Force Gen. Tod Wolters, commander, U.S. European Command, served as co-hosts for the conference. Participants also included the Chiefs of Defence from Denmark, Estonia, Germany, Latvia, Lithuania, the Netherlands, Norway, Poland, Sweden and the UK.
During the conference, heads of delegation discussed regional security challenges, and they reaffirmed their continued commitment to deepening defence cooperation. The defence chiefs also discussed military mobility and enhancing technological interoperability among NATO and non-NATO nations. Finally, they were briefed on USEUCOM's Fiscal Year 2022 Joint Exercise Program.
Senior enlisted leaders for many of the participating nations met a day earlier to discuss ways of empowering enlisted forces. During that event, each nation's top enlisted leader briefed their nation's approach to enlisted development.
Conferences such as this further cooperation between northern European nations, the U.S. and Allies and partners throughout Europe. This cooperation builds defence capabilities and interoperability, and enhances the ability to respond to a variety of current and potential threats.
The Arctic and Baltic regions are strategic regions of growing geo-political and global importance. In these regions, exercises and interactions between Allied and partner forces increases interoperability across all domains and allows us to work together as a team to address security threats.