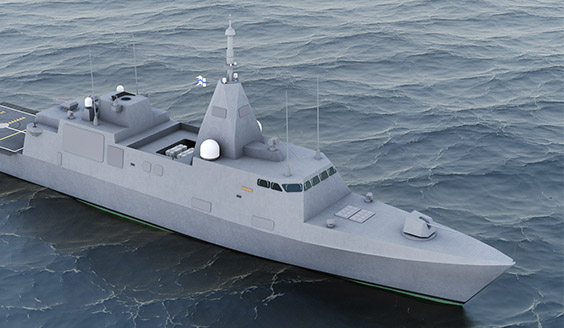 Concept image of the future Pohjanmaa -class corvette
Squadron 2020 replaces the vessels the Navy will decommission
The multi-role corvettes to be procured will be able to operate in versatile tasks around the clock.
Squadron 2020 is a project of the Navy. Its aim is to replace the seven vessels the Navy will decommission. Four modern corvettes will be procured to replace the vessels to be decommissioned. A multi-role corvette is a surface combatant capable of conducting effectively the range of Navy tasks at sea all year round.
The Navy's new vessels will be an indispensable part of naval defence. They are intended for repelling attacks from the sea and securing vital assets at sea and in the archipelago.
A large part of the Navy's tasks and operations are conducted at sea. The Navy has to be capable of mine laying and mine countermeasures, and searching and repelling submarines. Vessels are needed for extended presence at sea. These tasks can not be conducted for example with coastal troops or from outside of the target area.
The vessels object of Squadron 2020 are planned to be constructed in Finland. The combat system, in other words weapons and sensors will be purchased from abroad. Decisions on procurement will be made at the beginning of 2019. The vessels will be delivered to the Defence Forces in 2023-2025.
The Commander of the Navy named the class Pohjanmaa on the anniversary of the Navy in 2017.
Read more on the Ministry of Defence project website.