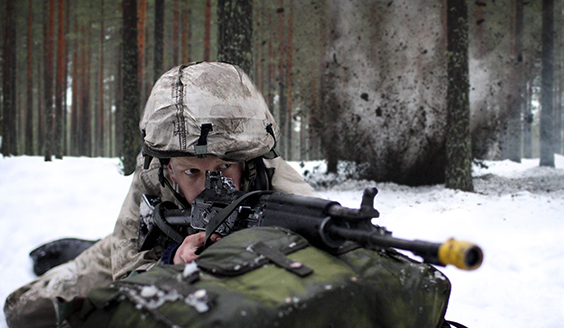 Shooting, training and protection areas
The Finnish Defence Forces has 164 shooting ranges, 58 training areas and 18 protection areas around Finland.
Some shooting ranges will be dismantled in connection with environmental protection projects and others will be expanded to ensure high-quality training for conscripts. The areas are used for training and testing the use of weapons.
Versatile training environments
The shooting ranges range from the most common type of 150-meter rifle ranges to more unusual multipurpose areas. Around 10.6 million shots were fired at shooting ranges in 2013. There are training areas both on land and at sea. In addition to small arms, heavy weapons, such as anti-aircraft weapons and rocket launchers, are used in the training areas. The Finnish Defence Forces closely monitor the safety and noise effects of shooting and training areas.
Shooting and noise notices of the exercises can be found on our website and on page 592 of YLE Teletext. The announcements are read in Finnish in connection with YLE Radio Suomi's weather report for seafarers and in Swedish in Swedish-language news.
Most of the Defence Forces' shooting ranges are also open for civilian use. The area manager answers questions about civilian use of the tracks.
The firing and training areas of the Finnish Defence Forces, where entry without proper permission is prohibited, are marked with yellow prohibition boards. Unauthorised stay in these areas is punishable.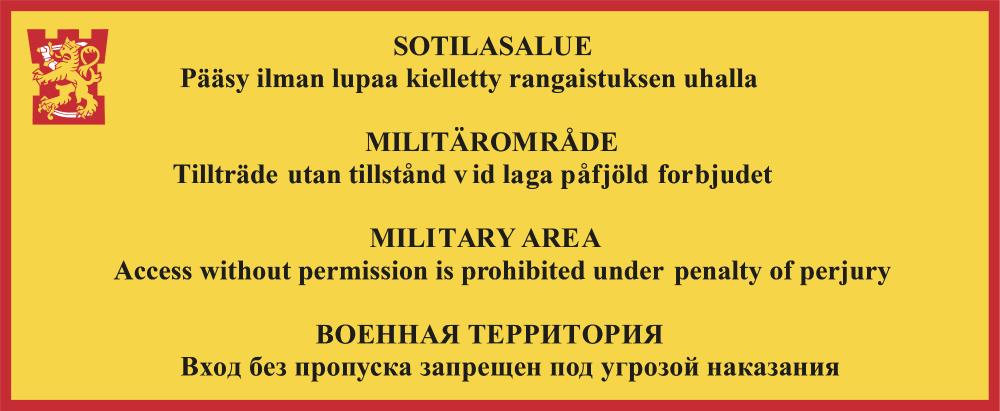 Marine protected areas
Protected areas are important for national security and the organisation of regional surveillance, and their boundaries are clearly defined parts of Finland's territorial waters. Finland's 18 protected areas are located in the Gulf of Finland and the Archipelago Sea. The Act on Area Monitoring contains provisions on protected areas and restrictions on the activities of protected areas, the purpose of which is to safeguard Finland's territorial integrity.
In protected areas, there is usually a military zone with a 100-metre protection zone where you are not allowed to approach the area. The area is marked with signs prohibiting disembarkation. This limits anchorage in the area.
Current shooting and noise messages