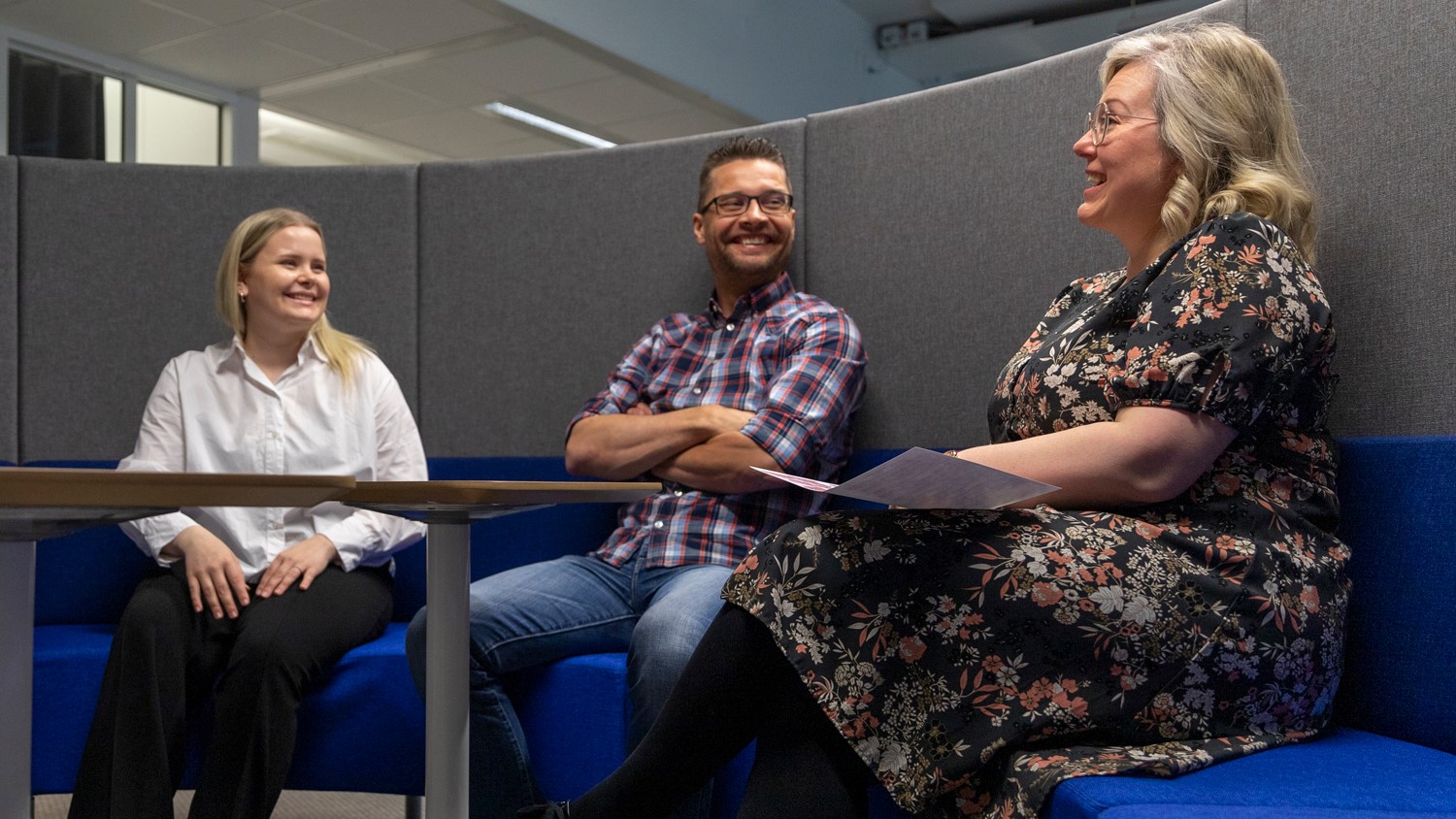 Work in the Defence Forces
Would you like to know more about work in the Defence Forces? Listen to our civilian workers', non-commissioned officers' and special officers' stories.
Information technology
ICT experts perform a range of Defence Forces duties across the country. Job titles for personnel in these challenging tasks include e.g. ICT Expert, Systems Non-Commissioned Officer and Chief of Systems Development.
ICT professionals are in demand particularly in the C5 Agency, Joint Systems Centre (part of Logistics Command), Shared Services Centre and Intelligence Division. Their jobs range from IT support and system development to project management. Our positions enable you to develop field expertise or get promoted into management.
We need dozens of cyber experts each year to meet rising cyber security challenges and requirements. See details and follow our vacancies below.
Healthcare and social work
Healthcare and social work professionals, primarily civilians, perform a variety of duties across Finland. International crisis management jobs present rich and challenging duties and opportunities for professional development for healthcare and social work professionals as well.
Physicians
Most of our physicians work at garrison clinics, but some are specialists or work in administration. Military physician applicants must have completed reserve officer or reserve non-commissioned officer training.
Defence Forces physicians may maintain their physical fitness and military abilities e.g. by exercising during working hours and partaking in annual physical fitness tests. Additionally, the position is an opportunity to develop field medicine expertise and participate in emergency medical care planning for the national security strategy.
Nurses
Nurses in the Defence Forces work as garrison field nurses. Some of their duties take place in clinics, others in the field. They are responsible for e.g. conscript health services, health checks as well as first aid and field medicine training. Field nurses work in demanding conditions that require appropriate physical fitness.
Besides field nurses, the Defence Forces employ dentists, veterinarians, occupational health nurses, dental hygienists, site facility operatives and laboratory staff, among others.
Technicians
Defence Forces technicians work across Finland. These demanding tasks are handled by employees with Engineer or Master of Science degrees of different specialities.
Technical jobs are available for both civilian and military personnel. Civilian workers include e.g. fitters, researchers, chief electricians and maintenance and service professionals. Special officers' jobs present opportunities for e.g. systems, logistics and electrical engineers, whereas non-commissioned officer posts include situational and maritime surveillance as well as control, electronics and signals systems.
Logistics and maintenance
Logistics and maintenance are a significant part of sustaining the Defence Forces' performance. Coordinated logistics and maintenance operations ensure that units are able to execute their tasks as planned.
Logistics and maintenance jobs take place on land, at sea and in the air, including, for instance, land vehicle, seacraft and aircraft fitting, material and textile logistics and various storage, planning and procurement tasks.
Finances and administration
The Defence Forces needs financial and administrative expert across the country. Most of them are civilians. We employ e.g. financial, procurement and human resources secretaries; our more demanding jobs include procurers, financial coordinators, human resources specialists and lawyers. Professional development may present you with more demanding jobs later.
Financial and human resources professionals are needed in all brigade-level units, particularly in Defence Command and Shared Services Centre, whereas Logistics Command employs a significant number of procurement and legal professionals.
Training
Non-commissioned officers perform specialty duties, especially training, across Finland.
Military Music
The Finnish Defence Forces employs dozens of military music professionals. Our military bands are the only full-time professional wind orchestra in Finland.