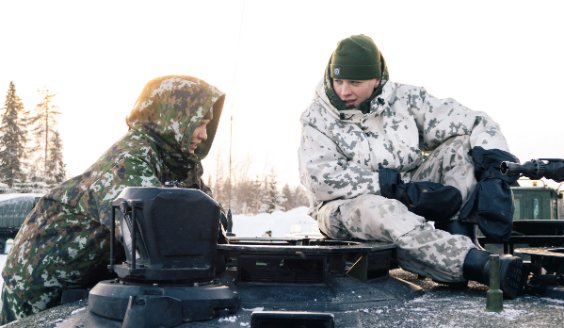 Conscription
Call up or military service around the corner? Are you already in military service or in the reserve? Or a woman considering the option of performing voluntary military service for women? This is a website with useful links concerning the entire time you will be liable for military service.
You will find extensive information about conscription on the intti.fi conscript webpage. If you want to get a general picture of liability for military service, familiarize yourself with the website Finnish conscription system.
About to enter into the military?
About to enter into the military - this link provides ample information, for example, about service titles and locations.
Call-ups - information involving when and where call ups are organised and your attendance obligation.
Tasks that require applying for before the service - Are interested in special operations forces tasks? Remember that these are tasks that you have apply for separately before entering military service; the link provides instructions.
Preparing for the service - useful information for conscripts involving allowances, studies, employment relationships and the MarsMars.fi- service intended for improving conscripts' physical fitness.
Voluntary military service for women - information about women's voluntary military service and how to apply for it.
Regional Offices - Regional offices are service points for persons liable for military service. They answer any questions you may have before and after your military service. Here you can check which office handles your conscription and military service matters.
In service
For the first time in a brigade-level unit - Information about arriving at the unit and what to bring along
In service - A lot of general information about practical things related to military service including health care, accommodation and free time travel. This section includes information about the structure of conscript training and the general dates of entry into service and mustering out.
Leadership training - Are you interested in leadership traicing? This link provides more information about leadership training.
Tasks that you apply for while in military service - in special tasks you will be able to use your know how and gain work experience and contacts for the future. There are tasks available in the legal, ICT services, intelligence, research and communications and media branches.
In the reserve
Refresher training exercises - persons liable for military service have the right to participate in refresher training. This link provides information about refresher training exercises, reservist salary and daily allowance.
Promotions in the reserve - this link provides information, for example, about how to gain refresher training days entitling you to get promoted
Reservist supplementary training programmes - rank-and-file reservists can get trained into non-commissioned officers and NCOs into officers.
Voluntary national defence - In addition to participating in refresher training, you can improve your skills in your emergency conditions task by taking part in various organisations' activities, voluntary exercises or training.
Frequently asked questions - the regional offices' questions and answers section provides answers to FAQs before, during and after service.