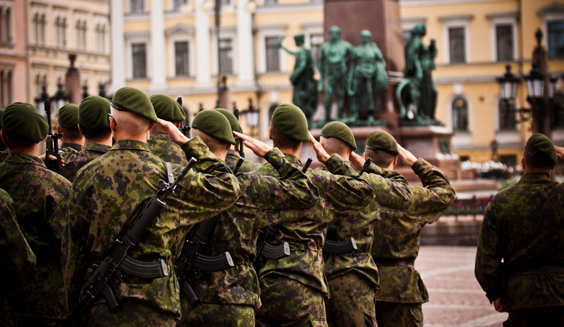 Conscription - a Finnish choice
General conscription guarantees Finland's military security. All Finnish men between the ages of 18 and 60 are liable for military service. Women can apply for voluntary military service. All men must either do military service or non-military service.
Read more about conscription on varusmies.fi - a website for conscripts and reservists
Why conscription?
As Finland is not a member of any military alliance, it is prepared to defend its territory relying on its own resources. General conscription generates enough resources for the Army, Navy and Air Force to act effectively in times of war and crises.
Conscription is a cost-effective way of generating a large and capable reserve. Our reservists possess skills acquired through military service and life in general that can be used to defend the country.
Conscription from an individual's point of view
Every man must attend a call-up the year he turns 18. Where and when a conscript will serve is determined during the call-up. If a conscript is not fit for service, he is exempt from peacetime military service. A conscript may serve later if he has a good reason to postpone his service.
Women can apply for voluntary military service by sending an application to one of the Defence Forces' regional offices. The application and any attachments must be sent to a regional office by 1 March.
Military service lasts 165, 255 or 347 days. Non-military service lasts 347 days. After conscripts have completed their military service, they go into the reserve. Reservists can be ordered to attend refresher trainings and, when required, to defend Finland with arms.