Cyber Defence Professional in the Defence Forces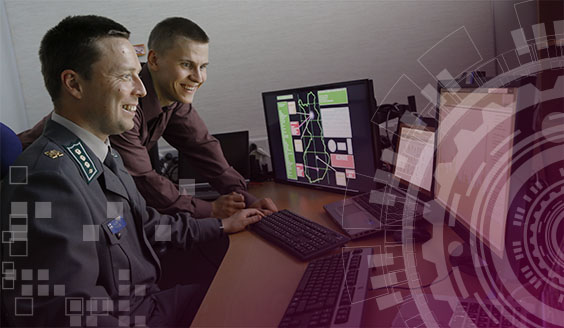 The Defence Forces offer cyber security professionals the possibility of working with cyber security issues at many levels and in different types of jobs.
Cyber defence professional - cyber agent, information security professional, cryptologist, auditor, systems specialist, vulnerability researcher - what on earth is going on in the Defence Forces?
The Defence Forces are a unique workplace - work is often done in groups, to assess how systems can be protected and defended, how possible attacks can be identified and how systems can be influenced. As a cyber agent you develop, prepare and practice information network attacks as part of military capabilities. There are supporting tasks related to all of these, as well as special tasks such as in cryptology or encryption system management and other tasks relating to exercise environments.
Create your own career path as a soldier or civilian!
Because there are a considerable amount of different functions and tasks within the Defence Forces, cyber professionals can contribute to their own career path by means of personal development and know-how. An example of this could be a professional who starts out in cyber surveillance tasks identifying detrimental events in the systems. From there he/she moves on to become a professional in protection, after which he/she works as an expert in influence and then possibly ends up planning methods of protection or influence as a vulnerability researcher. There are many career opportunities and tasks following different paths and combinations, both for soldiers and civilians according to one's desire and skills.
As a trainee or cyber conscript you can take part in an international exercise
The road to becoming a cyber defence professional can begin with special tasks for cyber conscripts or an internship - or why not both! These roads led Janne and Jarmo to the world's largest technical cyber defence exercise Locked Shields (LS18).
Janne carried out his military service in special tasks for cyber conscripts at the Finnish Defence Forces C5 Agency. During his service he received training in among others detecting system vulnerabilities, repairing them and identifying anomalies, and also took part in exercise activities in the role of protector.
After military service Janne stayed on as an intern at the C5 Agency's Cyber Division. His first task was to prepare to protect a previously unfamiliar environment in LS18 as part of the joint Finnish-Swedish exercise detachment.
"My service and internship prepared me for the LS18 exercise, I also participated in a similar smaller exercise last autumn", Janne says.
Once he has finished his studies at the Tampere University of Technology, Janne wants to work in the cyber field. "My dream job is not far from the experience I have gained here. I am not cut out to be an officer, but there are good jobs for civilians in the Defence Forces. The experience I have gained in Locked Shields is unique - there is no other place where you get to do this. The days have been busy, no need to sleep much", Janne says.
A cyber conscript is not afraid of challenges!
Jarno is serving as a cyber conscript at the C5 Agency's Cyber Division. In military service, he has been able to make use of his previous knowledge of programming development. Together with other conscripts, Jarno has participated in a project to develop a system for cyber protection, where he has played an important role.
"The programme we developed is used to manage extensive computer systems. The project has also prepared me for finding vulnerabilities in the systems that are being protected in the Locked Shields exercise. In addition to project work, we have also been trained in cyber issues and I have spent time thinking about these things on my own also. This has prepared me well for this exercise."
Jarno is not afraid of challenges. When asked, he was immediately ready to test the product he developed in a realistic environment. The exercise provides valuable experience to support development, as you only gain experience of the system's usability when working under pressure. The system's survivability and self-protection from the effect of an attacker is also tested for the first time in the exercise. Jarno gets to work as technical support for users of his own system.
"In the autumn, I will continue my university studies in IT. In the future I am interested in working for the Defence Forces - especially in relation to exercise activities. Locked Shields is interesting as it is the world's largest technical cyber exercise. Also, the system that we are working within is complicated - I wouldn't otherwise have access to this kind of thing. We have a big team and, not only the work, but also seeing how such an exercise is arranged was interesting - a unique experience!" Jarno says.
Read more about the Finnish Defence Forces' participation in the Locked Shields 18 Cyber Defence Exercise.
All vacant positions are published on the e-service valtiolle.fi. What is your path like?