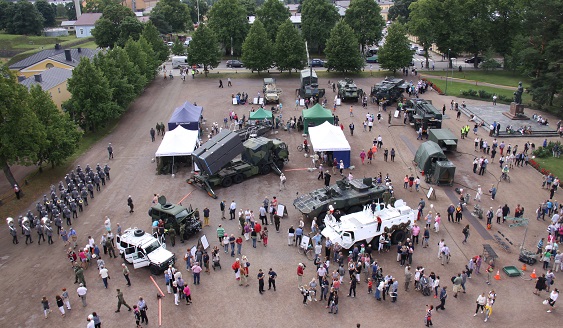 See you at the Finnish Defence Forces´ event field!
During Hamina Tattoo on 13 –16 July 2022, you may familiarise with the Finnish Defence Forces' activity at the Finnish Defence Forces' event field.
Situated in front of the Reserve Officer School Main Building along Kadettikoulunkatu, the event field will again be available Wednesday through Saturday at 12–19.
You may familiarise with, among others, Finnish Army, Navy and Air Force conscript training and activity, as well as Army equipment, plus enjoy marvelous musical performances by Finnish Defence Forces' military bands. Also, the Southeast Finland Regional Office will be available for discussing matters relating to liability for military service. And the Soldier's Home Canteen will have their salespoint on site too.
Additionally, a Finnish Navy fast attack craft will be on display at Tervasaari pier from 11 to 16 July.
The opening of the event field will take place on Wednesday 13 July at 16:30 with music performed by the Dragoon Band.
Welcome! Free admission.
Programme at the event field on 13–16.7.2022:
Wednesday 13.7.
at 16:30



Opening of the FDF event field
Commandant of the Army Academy,
Colonel Sami-Antti Takamaa

Dragoon Band

at 7.00–17.30

Dragoon Band

Thursday 14.7.
| | |
| --- | --- |
| at 17.00–17.30 | Finnish Defence Forces' Conscript Band |

Saturday 16.7.
| | |
| --- | --- |
| at 17.00–17.30 | Finnish Defence Forces' Conscript Band |
Programme in Tervasaari, next to fast attack craft Hamina:
Friday 15.7.
at 17.00–17.45

Navy Band with Mikael Konttinen
and Juha Ketola as soloists
The programme will be updated in spring and summer 2022.
The equipment display will feature among others:
Anti-Aircraft Gun 23ITK61
Surface-to air-missile 15 (ITO 15) Stinger RMP Block 1
Armoured Howitzer 155 PSH K9 FIN
Armoured personel carrier XA-180M
High Mobility Terrain Vehicle SISU A2045
Tactical Patrol Vehicle RG32M T3.1
Infantry Fighting Vehicle CV9030
Main Battle Tank Leopard 2A6
Valtra N163 D Tractor

Find out more about our equipment in the Finnish Defence Forces Materiel and Equipment Gallery.