Speech by Lieutenant General Timo Rotonen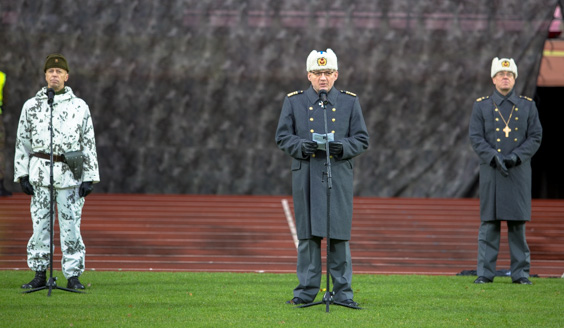 Honoured War Veterans and Lottas, Ladies and Gentlemen, Soldiers. This year marks the 240th anniversary of the founding of the city of Tampere, a locality that provided a strong beginning and versatile foundation for our nation's industry.
In December eight decades ago, Tampere came under attack from the air for the first time, putting the significant industrial agglomeration in the firing line. Meanwhile, on the Karelian Isthmus by Lake Ladoga, the Jaeger Regiment 16, mobilised in Tampere, underwent the baptism of fire engaged in combat. Visual reminders of the air raids repaired, the war grave memorials still tangibly remind us of the sacrifices given.
Today we celebrate our Independence Day in a state of peace prevailing.
In the Finnish Defence Forces' activity, a key objective is pre-emptive preventing of military use of force against Finland and avoidance of becoming involved in a military crisis. The notion of pre-emptive prevention rests on a credible defence capability - on capable troops and on a strong will to defend. This presupposes contingency planning of materiel, sustained readiness as well as a continuously demonstrated will and validated capability to intervene in case our sovereignty is put to the test.
The starting point remains excellent for sustaining a credible defence capability. According to opinions polls, citizens of Finland have the strongest confidence in their own defence forces in Europe and strongly support the Finnish liability for military service.
Sustained materiel readiness is one of the key scales for measured credibility. Systematically structuring our system in a balanced manner, we have achieved considerably with our defence budget.
Strategic procurement acquisition projects, the Navy Squadron 2020 programme and the replacement of the Air Force's primary air asset are nationally significant and scale wise specific. These projects serve in ensuring operating capabilities in all states of readiness.
For sustained national defence and security of supply, domestic industrial expertise and production continue to remain relevant. Performance capability in turn draws from good physical fitness.
Liability for military service functions in the present and evolves with the times. The majority of young men and volunteering young women complete their service with flying colours. This is where the support of both family and friends becomes invaluable. The precedent for this support is available close by – nearly all families have members and relatives who are reserve soldiers as well as veterans who took part in the common war effort.
Liability for military service provides us with sufficient and capable wartime troops. Nation-wide local units well familiar with the given home region enable utilising mobile operational units in all of Finland.
For over 60 years now, Finnish troops have served in military crisis management operations. International tasks measure and evaluate both the ability of individuals and the capacity of Finland while operating as part of a multinational force. Training exercises and operating in multinational environments indicate that our soldiers' attitude and competence well bear comparison.
For over a century, the chain of defenders of our Independent Finland has carried strong.
Bearing one's share of the responsibility for the security of the Fatherland remains a shared and vital value for us Finns.
A living proof of this is that You, young men and women, are standing as part of the parade troops from all of Finland, and You reservists, crisis management veterans as well as volunteers from national defence organisations. Another reflection of this is that You, Ladies and Gentlemen, are present here in Tampere or at home following the event through the media.
Parade troops,
Let us raise three times long live for the Fatherland.