Static Display at Vanha tori from 10 am to 5 pm
Viewers are welcome to take a look at the Finnish Defence Forces' materiel and equipment at Vanha Tori Square on the parade day.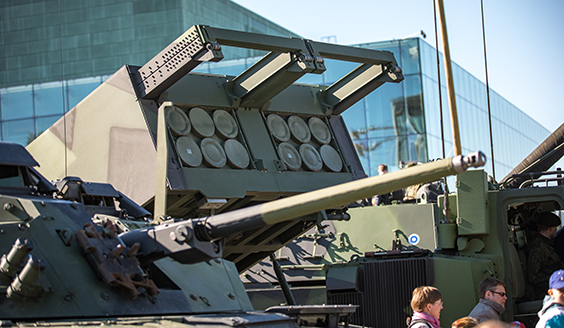 There will be equipment on display from the Air Force and Army as well as the Border Guard.
The Hornet solo display pilot Captain Arto Ukskoski from Lapland Air Command will be available at the Air Force's recruitment booth at Vanha Tori from 10 to 12. Captain Ukskoski will give out information on Hornet flying and careers in the Air Force.
The static display will include the following:
F/A-18 Hornet multirole fighter's weapons system
Main Battle Tank Leopard 2A6
Infantry Fighting Vehicle BMP-2M
Armoured Howitzer K9 Thunder
Combat Vehicle CV 9030
Surface-to-air missile 05 (ITO05) and All-Terrain Vehicle
155 K 83-97 Field Gun
All-Terrain Carrier
RG32M Tactical Patrol Vehicle
Border Guard's Patrol Vehicle and Exhibition Tent for Related Equipment
HF Patrol Radio Set
Jaeger Unit's Weapons and Equipment
Mine Container
Miniature Unmanned Aerial System (MUAS) Orbiter 2b
AT 04 Target Drone
Target System Banshee Jet 80
Surface-to-Air Missile 12 NASAMS (ITO12)
Surface-to-Air Missile 90M Crotale (ITO 90M)
Short-Range Surveillance Radar