Defence Forces' main exercise focuses on defending the capital city area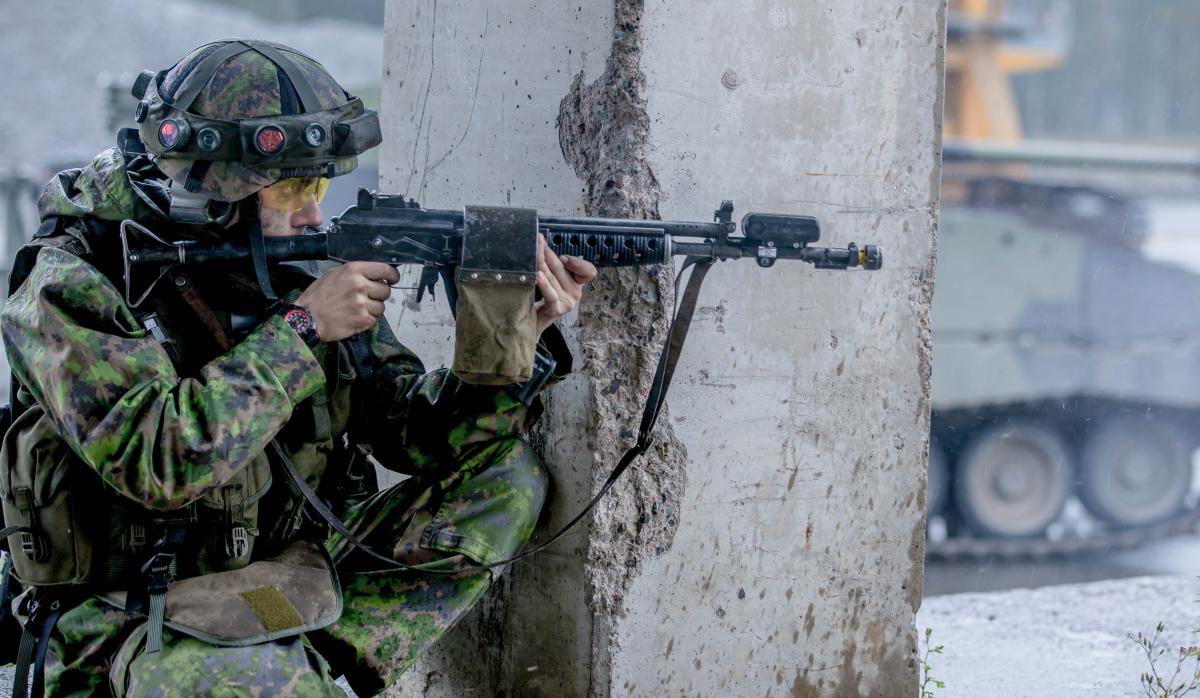 The Defence Forces' main exercise Uusimaa will be held in southern Finland from 27 November to 4 December 2017. The objective is to train defending the capital city area and coast in a rapidly escalating situation together with the other authorities.
Uusimaa 17, this time led by the Army, is a main exercise in accordance with the Defence Forces' action plan. Around 9,000 persons, including conscripts, reservists and regular personnel of the Defence Forces, will participate in the exercise. Exercise troops include troops from the Army, Navy, Air Force, Defence Command and establishments subordinate to it, and also the Border Guard. Also the Police, Customs, Radiation and Nuclear Safety Authority, Finnish Transport Safety Agency, Vuosaari harbour and Helsinki City Rescue Department will participate in the exercise.
- It is necessary to be able to respond to multi-level threats in seamless cooperation with the Defence Forces' different actors and other authorities. Large exercises are essential for testing and demonstrating our defence capacity. Exercises are an integral part of prevention capability, says exercise commander Major General Petri Hulkko, Commander of the Finnish Army.
During the exercise the Defence Forces will train in Helsinki (in among others Laajasalo and Vuosaari), Espoo, Järvenpää, Kerava, Kirkkonummi, Porvoo, Sipoo, Siuntio, Tuusula and Vantaa. Exercise troops will also be on the move in the areas of Dragsvik, Harparskog, Kemiönsaari, Koverhar, Lohja, Mustio, Syndalen and Upinniemi as well as at sea and in the archipelago of the Gulf of Finland between 27 November and 4 December 2017.
Army equipment and personnel participating in the exercise will include Leopard 2A6 Main Battle Tanks, XA203 Personnel Carriers, CV9030 Infantry Fighting Vehicles and troops from the Guard Jaeger Regiment, Karelia Brigade, Army Command, Armoured Brigade, Pori Brigade and Utti Jaeger Regiment. The Armoured Brigade is responsible for the exercise's overall arrangements and for leading the combat training phase.
Navy equipment and personnel will include Hämeenmaa class minelayers, Katanpää class minehunters, Rauma and Hamina class fast attack missile craft, support vessels, coastal units, special forces and anti-ship missile batteries. The Navy's exercise contribution will be led by the Commander of the Finnish Navy, Rear Admiral Veijo Taipalus.
The Air Force will participate in Uusimaa 17 with a total of ten aircraft. These will include Hornet multirole fighters, Hawk jet trainers and liaison and transport aircraft. Exercise-related flight activities will take place from the Tikkakoski, Halli, Pirkkala and Rissala airbases in the direction of southern Finland. Flight activities will be directed over population centres in the capital city area, among others.
Flying is scheduled to take place between 8 a.m. and 9 p.m. on exercise days between 27 November and 2 December 2017. On Sunday 3 December, flying will cease by 3 p.m. In addition to Air Force aircraft, also Army helicopters and UAVs, as well as Border Guard helicopters and aircraft will participate in the exercise.
Follow the exercise on Facebook, Twitter, Instagram and Youtube with hashtag #uusimaa17 #maavoimat #merivoimat #ilmavoimat. Additional information on the exercise is available at puolustusvoimat.fi/uusimaa17.
Motor marches
The exercise troops' motor marches will contribute to a larger amount of traffic than normal and may affect other traffic. The marching speed of the motor march units is 80 km/h and they will use roads between Vekaranjärvi - Kouvola - Helsinki - Lohja, Parolannummi - Riihimäki - Helsinki, Niinisalo - Huittinen - Fiskars, Säkylä - Mustio, Tammisaari – Perniö (road 52) and Perniö – Kemiö (road 183) from Monday 27 - Wednesday 29 November 2017.