Finland's Independence Day national parade in Kuopio on 6 December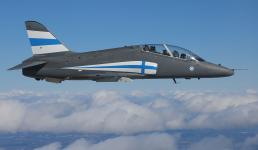 This year's Independence Day marks the 100th anniversary of Finland becoming an independent state. The theme of the parade is National defence is everybody's business.
Altogether 1,100 persons, 48 vehicles and 41 aircraft will take part in the parade and the concurrent flypast. The parading troops of the Finnish Defence Forces and the Border Guard will be joined by a local defence company formed from reservists, members of the National Defence Training Association, UN peacekeepers, the massed standards of war veterans' and national defence organisations and representatives of the Women's National Emergency Preparedness Association and the volunteer-run military base cafés' (Sotilaskoti) association.
The parade reviewing officer will be Major General Sampo Eskelinen, Commander of the Finnish Air Force, accompanied by Antti Kivelä, Chairman of the Kuopio City Board. The parade troops will be commanded by Brigadier General Jari Mikkonen, Chief of Staff Air Force Command Finland. The field devotional will be held by FINAF's Senior Chaplain Kari Mannermaa.
The parade day festivities will commence with the wreath laying ceremony at the Sankaripuisto park and the adjoining Hatsala cemetery at 9:00 am. The ceremony will be honoured by the massed standards of war veterans' and national defence organisations. Also in attendance will be a detachment from Karelia Air Command.
A church service will be held in the Kuopio Cathedral at 10:00 am.
The review of troops will take place at the Keskuskenttä football stadium in Kuopio at 12:00 am. The participating troops will set up for the parade at Keskuskenttä beginning at 11:30 am. The review of troops will be followed by a pass-in review at 1:15 pm along the Tulliportinkatu street, beginning from the Puistokatu street towards the Maaherrankatu street. In addition to the marching troops, the pass-in review will include 48 vehicles.
During the pass-in review, Air Force and Army aircraft will perform a flypast. FINAF will participate with 16 F/A-18 Hornet multirole fighters, 12 Hawk jet trainers, a CASA C-295M transport aircraft, Pilatus and Learjet liaison aircraft, joined by six NH90 transport helicopters and four MD500 light helicopters of the Army. The fixed-wing and rotary-wing aircraft will fly at altitudes of 300 and 150 metres, respectively. The flypast is subject to weather conditions.
On the parade day, Defence Forces equipment will be on display at the Kuopio market square between 10:00 am and 3:00 pm.
The public is invited to attend all Independence Day events.
The parade will affect the traffic in Kuopio. Those looking to attend are asked to arrive in good time using public transportation in order to avoid traffic congestion. Some of the streets and areas will be reserved exclusively for parade use. More specific information on the traffic arrangements will be provided on week 48.
Programme for the Parade Day:
9:00 am Wreath laying ceremony, Sankaripuisto park and Hatsala cemetery
10:00 am Church service, Kuopio Cathedral
12:00 am Review of troops and field devotional, Keskuskenttä football stadium
1:15 pm Pass-in review, Tulliportinkatu street
2:30 pm Independence Day celebration, Kuopio Music Centre (open to the public)
10 am to 3 pm Equipment display, Kuopio market square
You can follow the parade on-site or on the internet:
Twitter @Puolustusvoimat
instagram.com/puolustusvoimat.fi
#parade