Ruska 22 to involve 50 aircraft and 3,700 personnel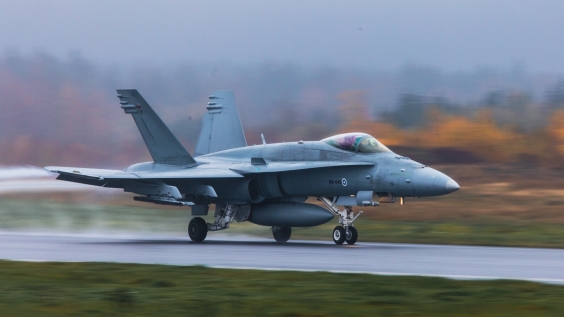 The Finnish Air Force will arrange the Ruska 22 air operations exercise on 3‒8 October 2022. The exercise will involve 50 aircraft and around 3,700 personnel at different locations across Finland.
Ruska 22 will be the Finnish Air Force's main exercise in 2022. All Air Force units will participate in the event that can be seen and heard across a large part of Finland. This year, the focus will be on training the reservists of Lapland Air Command and Air Force Academy. Consequently, the main bases will Rovaniemi and Tikkakoski in Jyväskylä.
In total, Ruska 22 will involve around 3,700 personnel, including around 2,400 reservists. The participating aircraft will be assigned to either perform air defence tasks or emulate an adversary. As per the Air Force's mobile operational concept, the aircraft will operate out of several aerodromes across the country.
‒ Ruska 22 is an important exercise especially in terms of training our reservists. Troops consisting of reservists are a cornerstone of the Air Force's dispersed and mobile operational concept. Exercises such as Ruska maintain and develop our readiness to execute demanding air operations by taking advantage of the extensive base network, says Exercise Director, Deputy Chief of Staff, Air Force Command Finland, Colonel Henrik Elo.
Air activity around the clock on 5‒8 October
In total, the exercise will involve around 50 aircraft, the majority of them being F/A-18 Hornet multi-role fighters. In addition to the F/A-18s, participating aircraft will include Hawk jet trainers, Air Force transport and liaison aircraft, an Army NH90 transport helicopter and Swedish Air Force JAS 39 Gripen multi-role fighters. Operating out of Rovaniemi Air Base, the Swedish fighter detachment will participate in the exercise as part of Finland's air defence and train base operations at a Finnish air base.
The main bases for the forces training air defence tasks will be Rovaniemi and Tikkakoski. Following the Air Force's mobile operational concept, the fighters of the defending unit will also fly from the Oulu, Pudasjärvi, Vaasa and Kokkola-Pietarsaari airports as well as the Kallax Air Base near Luleå, Sweden. In addition, the Air Force transport and liaison aircraft will use Kemi airport during the exercise. The aircraft emulating the adversary will operate out of Karelia Air Command's Rissala Air Base.
Ruska 22 air activity will include flight missions at low altitudes, and supersonic flying at 10-kilometre altitude above the mainland. Noise abatement procedures are followed in the vicinity of the air bases, whenever feasible. During the exercise, the aircraft will deploy countermeasures such as flares and chaff. Flares may be seen as momentary bright spots of light in the sky, and chaff may cause false echoes on weather radar.
Air activity of the exercise will begin on 3 October at noon, and end on 8 October by 3 pm. On Monday and Tuesday, 3‒4 October, flight operations will be completed by 10 pm. From Wednesday 5 October onwards, air activity will be conducted around the clock.