Finnish Air Force to organise Ilmataktiikka 21 live air exercise and support Army and Navy exercises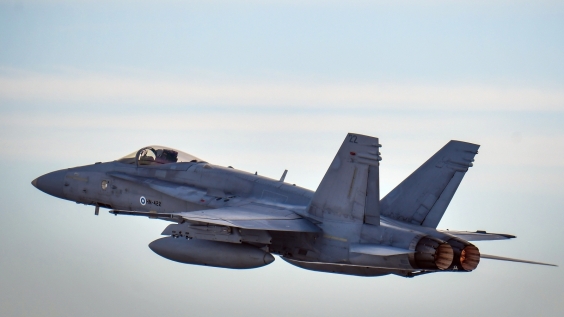 All Finnish Air Force wing-level units will take part in the Ilmataktiikka 21 (Air Tactics 21) live air exercise on 23‒28 May 2021. The Air Force will also fly sorties to support the Army and Navy led exercises in late May and early June.
Staged at the end of May, the Ilmataktiikka 21 live air exercise will feature approximately 24 F/A-18 Hornet multi-role fighters, four Hawk jet trainers as well as transport and liaison aircraft. The Air Force will also participate in the joint air defence exercise IPH 1/21 at Lohtaja Range Area on 17‒25 May, and support the Army and Navy led Northern Forest 21, Nuoli 21 and Ritva 21 exercises on 29 May ‒ 2 June.
‒ Ilmataktiikka 21 offers an important opportunity to further develop Air Force tactics and air combat techniques. The main operating base for the unit carrying out air defence duties will be Rovaniemi, while Rissala will host the unit assuming the role of the adversary. The objective is to train fighter squadrons' and control and reporting centres' personnel in tactically challenging scenarios, says Exercise Director, Colonel Timo Herranen.
‒ In connection with the IPH 1/21 joint air defence exercise, Air Force F/A-18s and Hawks will conduct air-to-air missile firings as well as support the training of ground based air defence units at Lohtaja Range Area. The aims for the Air Force in the Northern Forest 21, Nuoli 21 and Ritva 21 exercises include training air defence command and control as well as tasks in the Defence Forces' effects chain and airspace control in joint operations, Colonel Herranen continues.
Active flight operations at the end of May
Besides Rovaniemi and Rissala, aircraft participating Ilmataktiikka 21 will operate out of the air bases in Oulunsalo, Tikkakoski and Pirkkala. Flight operations will take place in the area bordering on Rovaniemi, Kuusamo, Kuopio, Jyväskylä, Seinäjoki and Kokkola as well as over the Gulf of Bothnia. Sorties will be flown daily from Sunday to Thursday (23‒28 May) between 8 am and 10 pm.
Once Ilmataktiikka 21 has ended, the Air Force is set to support the Army and Navy led exercises with flight operations scheduled daily from Saturday to Wednesday (29 May ‒ 2 June) between 8 am and 5 pm. Flown from Rovaniemi, Rissala, Tikkakoski and Pirkkala Air Bases, the support and target sorties will be directed to the Northern Forest 21, Nuoli 21 and Ritva 21 training areas. No live air-to-ground ammunition will be fired in the exercises, the Air Force will support the Army and Navy exercise units with simulated air-to-ground fire.
The tactically challenging scenarios of Ilmataktiikka 21 will include sorties flown in low altitudes as well as supersonic flights over the sea that may produce louder than usual noise levels. Additionally, the aircraft in the exercise will deploy countermeasures such as flares and chaff. Flares may be seen as momentary bright spots of light in the sky, and chaff may cause echoes on weather radar.
Ilmataktiikka 21 will be carried out mainly by active duty personnel. Reservists will not be involved in the exercise. Air Force conscripts will join the exercise activities at their bases by performing their daily duties. The participating personnel will be divided into individual groups in line with COVID-19 safety measures.