Flight Detachments and Air Bases in Arctic Challenge Exercise 17
The Air Forces of Finland, Norway and Sweden will host a multinational Arctic Challenge Exercise 2017 from 22 May to 2 June 2017. Over one hundred aircraft and thousands of personnel from eleven nations will participate in the exercise. They will mainly be located at Bodø in Norway, Luleå in Sweden and Rovaniemi in Finland, each of which will see dozens of aircraft at its base.
Finnish Air Force F/A-18 Hornets and French Air Force Mirage 2000s are among the participants of the Artic Challenge Exercise 17.
This year's Arctic Challenge Exercise (ACE 17) is the third of its kind that Finland, Norway and Sweden have organised together. The exercise conducted every second year since 2013 is this time led by the Finnish Air Force that is responsible for planning and direction of the training event to be carried out in the airspace over the northern areas of the host countries.
Arctic Challenge exercises are part of the Nordic Defence Cooperation (NORDEFCO) between Finland, Norway and Sweden. The Air Forces of these nations conduct Cross Border Training (CBT) on almost a weekly basis consisting of combined air combat training missions that are flown from their northern home bases. The cost-effective implementation pattern of combined exercises can also be applied to large-force air exercises.
The scenario of the exercise is to improve capability of multinational troops to participate in combined air operations for the purposes of crisis management. ACE 17 provides the opportunity to train the large-scale planning and conducting of air operations in a real-like operating environment that involves a wide range of aircraft and forces of modern air warfare.
Colonel Petteri Seppälä, Exercise Director, from the Air Operations Centre of the Air Force Command Finland says that ACE 17 is a unique live air exercise on a world scale because it has been planned, prepared and executed in close cooperation between the three nations' air forces.
- All the multinational participants and a wide range and large number of aircraft involved in ACE 17 make it interesting and challenging in terms of planning and execution. The exercise is really an excellent manifestation of the Finnish, Norwegian and Swedish Air Forces' versatile and high standard cooperation capability.
ACE 17 will gather forces from Finland, Norway, Sweden, the Netherlands, Belgium, Great Britain, Canada, France, Germany, Switzerland and the United States.
In addition to multi-role fighters, transport and liaison aircraft, aerial refuelling tankers, electronic warfare aircraft, airborne warning and control system aircraft, transport and search and rescue helicopters accompanied by ground troops and ground-based air defence (GBAD) units will participate in the exercise. The flight operations will be supported by aircraft from Cobham plc, Great Britain. Aircraft that will be seen for the first time in the ACE are American B-52H bombers. They are scheduled to take part in one mission at the end of the exercise. They will not land at the Nordic exercise bases.
The flight detachments participating in the exercise will operate from Bodø in Norway, Luleå in Sweden and Rovaniemi in Finland as shown below. Part of exercise aircraft will be deployed from their home bases beyond the actual training area. Subsequent changes in aircraft types and numbers are possible.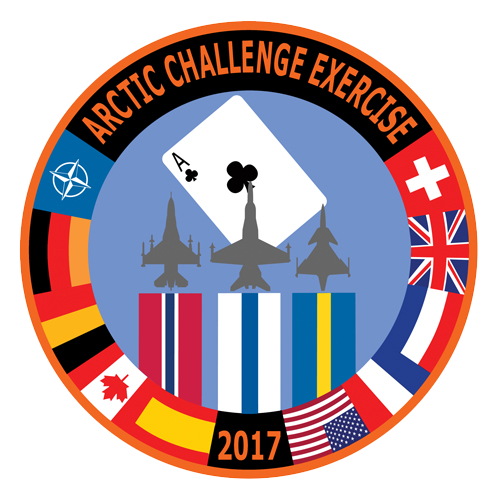 Aircraft Participating in ACE 17 (current as of 27 April 2017)
Bodø, Norway:
Operator

Aircraft

Role

Number

Royal Norwegian Air Force

F-16 Fighting Falcon

multi-role fighter

8

DA-20 Falcon Jet

electronic warfare

2

C-130 Hercules

transport

1

Royal Air Force of United Kingdom

Tornado GR4

fighter-bomber

7

Cobham plc (Great Britain)

DA-20 Falcon Jet

electronic warfare

1

Belgian Air Force

F-16 Fighting Falcon

multi-role fighter

5

Swedish Air Force

JAS 39 Gripen

multi-role fighter

8
Luleå, Sweden:
Operator

Aircraft

Role

Number

Swedish Air Force

JAS 39 Gripen

multi-role fighter

18

C-130TP Hercules

tanker and transport aircraft

1

ASC 890 (Argus)

airborne warning and control system aircraft

1

Swiss Air Force

F/A-18 Hornet

multi-role fighter

8

U.S. Air Forces in Europe

KC-135 Stratotanker

aerial refuelling aircraft

2
Rovaniemi, Finland:
Operator

Aircraft

Role

Number

Finnish Air Force

F/A-18 Hornet

multi-role fighter

12

CASA C-295M

transport

1

Pilatus PC-12

liaison aircraft

1

U.S. Air Forces in Europe

F-15 Eagle

multi-role fighter

12

French Air Force

Mirage 2000

multi-role fighter

6

Rafale

multi-role fighter

3

German Air Force

MRTT-310

multi-role tanker

1

Royal Canadian Air Force

C-130T Hercules

tanker and transport aircraft

1

Finnish Army

NH90

transport helicopter, Search and Rescue

3
Participants not operating from Finland, Norway and Sweden:
| | | | |
| --- | --- | --- | --- |
| Operator | Aircraft | Role | Number |
| United States Air Force | B-52H Stratofortress | bomber | 2 - 3 |
| Royal Air Force of United Kingdom | A330 Voyager | multi-role tanker | 1 |
| Royal Netherlands Air Force | KDC-10 | multi-role tanker | 1 |
Further information for the media:
The media will be given the chance to to take a closer look at ACE 17 during the exercise media day on 23 May 2017, according to a preliminary schedule. The media day with a duration of approximately 2 hours will be organised simultaneously at Rovaniemi, Bodø and Luleå bases. For more information, please contact the public affairs personnel of the host nations:
Finnish Air Force Public Affairs Section
Joni Malkamäki, Chief Public Affairs Officer, tel. +358 (0)299 29 1130
Ville Tuokko, Public Affairs Officer, tel. + 358 (0)299 29 1135
ilmavoimat(at)mil.fi
Royal Norwegian Air Force
Sigurd Tonning-Olsen, Press and Information Officer, tel. +47 488 65 018, stonningolsen(at)mil.no
Swedish Air Force
Louise Levin, Head of Public Affairs Office, tel. +46 70 656 26 07, louise.levin(at)mil.se