Field Devotional during Review of Troops in Finland's Independence Day Parade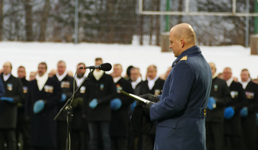 The field devotional during the review of troops was held by FINAF's Senior Chaplain Kari Mannermaa at the Keskuskenttä football stadium in Kuopio.
In the name of the Father, the Son and the Holy Spirit.
Text Matthew 20: 25-29
Jesus called his disciples together and said: "You know that the rulers of the Gentiles lord it over them, and their high officials exercise authority over them. Not so with you. Instead, whoever wants to become great among you must be your servant, and whoever wants to be first must be your slave – just as the Son of Man did not come to be served, but to serve, and to give his life as a ransom for many."
Devotional speech
As Finland today celebrates its centennial anniversary as an independent state, we are witnessing something that we can only be part of once. This day will not come again.
Still, round figures such as tens or hundreds are regarded with special attention only because of the fact that we use the decimal system in reckoning time. Each and every day in life is equally important and unique. It is nevertheless necessary to celebrate these milestones, to look both ahead and behind.
To be part of something, to belong and experience belonging, is at the nucleus of independence and civic society. Participation and non-participation were intrinsically associated to the painful early stages of our country's existence. The tension between participating and not participating has been reality throughout our country's independence, and will certainly always be. No country will ever be ready.
The ability to participate and the experience of participation are effective guarantees of peace. This is why they must always have a high priority in society. In order to preserve peace, there must be strong enough hands and arms in place to protect it. Our country is small, but by way of general conscription we as citizens are strongly involved in this preservation mission as well. We are ready to defend what is our own.
Few of us are so purely patriotic as to think blue-and-white thoughts every day in life. Our participation in home country finds embodiment in a smaller scale, such as through family, work, pastimes or friends. Veterans of our wars have recounted that it was the trust and the growing feeling of unity within the troops that served as the bond that helped them to endure and fulfil their roles. The bonds created through powerful and shared experiences are so strong that they will not easily break.
Finland is not just a piece of land in the north-eastern corner of Europe. Finland is us, we people here. Finland is how we encounter and treat each other. Participation in a shared Finland arises from encountering one another so that people are seen. When I am seen as human and when I see others as human, I do not see enemies or threats; instead, I see brothers and sisters. When I am helped, I awaken to help my fellow person as well.
No earthly kingdom will turn into the kingdom of heaven. But where two people come together in truth and love, this is where God's kingdom already is, because being part of God's kingdom means being borne by God's grace and love. That is why we pray: Let thy will be done on earth as it is in heaven. And when we seek it and advance it to our best ability, we can continue: "God help us in our search."
Prayer
Let us pray!
Almighty God, ruler of peoples.
Today, we thank You for this good land
That You have given us.
Thank You for the grace,
With which You have guided our people
Through many ordeals and battles to this day.
Give us the zeal and the endurance
To take care of each other
And give us the skill to act as one.
Guide us with Your word,
So that we would remain on the road of Your will
And reach our destination
In our heavenly native land.
This we pray in the name of our Lord Jesus Christ.
Amen.