Cross Border Training with the Swedish Air Force during week 36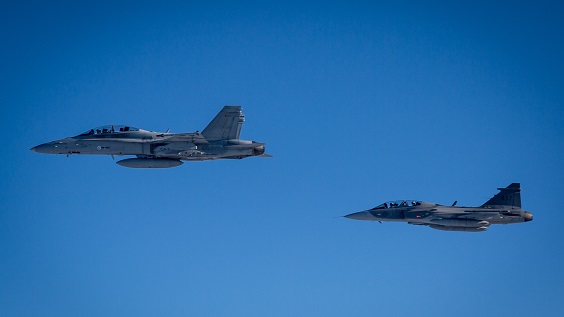 The Finnish and Swedish Air Forces will fly Cross Border Training (CBT) missions on a daily basis from 31 August to 4 September. The detachments will operate out of their respective home countries.
The Finnish Air Force will participate in the daily training missions with four F/A-18 Hornet multi-role fighters and two Hawk jet trainers flying from Rovaniemi Air Base. The CBT missions will be flown in Lapland on both sides of the Finnish-Swedish border. The flight operations are scheduled to take place each day between 9.30 am and 5 pm Finnish time.
The CBT missions with the Swedish Air Force during week 36 will play a part in replacing the Finnish-Swedish-Norwegian Arctic Fighter Meet exercise, cancelled in 2020 because of the COVID-19 epidemic.
‒ The theme of the annual Arctic Fighter Meet exercises is to familiarize the youngest fighter pilots with international cooperation, and to fly air combat training missions with different types of fighter aircraft. In order to meet the training objectives of the cancelled exercise, we will fly CBT missions out of Rovaniemi Air Base each day on week 36, says Commander of Fighter Squadron 11, Lieutenant Colonel Tomi Iikkanen.
The Finnish, Swedish and Norwegian Air Forces train regularly together across borders in the skies of Lapland. COVID-19 does not prevent Cross Border Training missions in the air, as the detachments operate out of their respective home bases.