Air Force Exercise Baana 23 in Tervo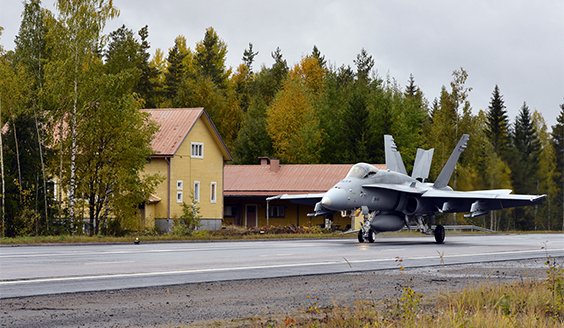 The Air Force road base exercise Baana 23 is organised in Tervo, North-Savo, on 18-22 September 2023. Aircraft from allied nations will also take part in the exercise.
Baana is an annual road base exercise of the Finnish Air Force. The lead responsibility of the exercise rotates every year among the Air Force units and now it is the Karelia Air Command's turn. The Air Force trains regularly operations from other than a home base to be capable of a quick dispersal across the country, when necessary. Operation at road bases is part of the training of all Air Force pilots.
The Baana 23 exercise includes daily air operations at the Tervo road base and Rissala Air Base from Tuesday to Thursday 19-21 September between 10 am and midnight, and on Friday 22 September between 10 am and 3 pm. The exercise's operational aims are to conduct highway strip take-offs and landings based on the flight training syllabus in day and night-time conditions. The exercise will see participation by Air Force F/A-18 fighters and other Finnish Air Force aircraft.
Apart from the Finnish Air Force fleet, aircraft from allied countries will be involved in the exercise. For the first time, the Royal Norwegian Air Force F-35s and Royal Air Force Eurofighter Typhoons will participate in the exercise. The Eurofighters will operate out of Rissala Air Base.
Traffic arrangements and movement restrictions around Tervo
Karelia Air Command will take the Tervo road base into use for the period between 18 and 27 September 2023. Special traffic arrangements and restrictions on movement will continue in the Tervo area also after the Baana 23 exercise due to the Ruska 23 Air Operations Exercise on 25-29 September.
The exercise activities will cause traffic disruptions on regional road 551 (Blue road) between Karttula and Tervo due to closure, and restrictions on movement for the residents in the surrounding area. The ELY Centre will close regional road 551 for traffic at the Tervo highway strip between Karttula and Tervo at 10 am on Monday 18 September. The road will be reopened to traffic no later than 6 pm on Wednesday 27 September. During the closure all traffic will be directed to a detour via Karttula (regional road 554) - Ahvensalmi (the intersection of roads 554 and 5512) - Tervo (connecting road 5512).
The Defence Forces has taken the exercise area in its use by an administrative decision, hence movement in the area is allowed for authorised persons only. The entire area is prohibited for drone operations and hunting around the clock on 18-27 September 2023.
Additional information: Karelia Air Command Chief of Staff Lieutenant Colonel Tommi Pyöriä, tel. +358 299 800 (operator).
Updated 15 September 2023: Added information about the Royal Air Force participating in the exercise.
Updated 18 September 2023: Added information about the Royal Norwegian Air Force participating in the exercise.