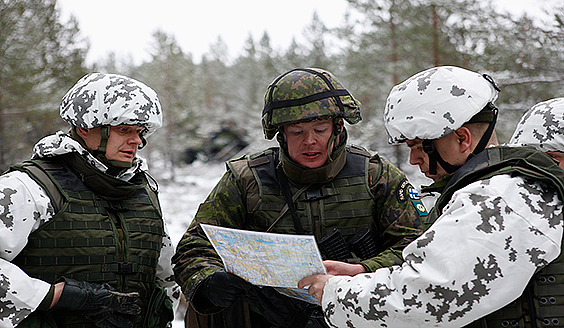 Publications
On this webpage, you can find publications related to the Finnish Defence Forces´ research activity.
Latest
JYU Dissertations 77:
Tuomas Honkanen´s academic dissertation : Fighter Pilots' Physical Performance and Spinal-injury Induced Flight Duty Limitations (2019-05-13)
Defence Research Agency´s publication 11:
Juha Kukkola, Mari Ristolainen, Juha-Pekka Nikkarila (eds.): GAME PLAYER Facing the structural transformation of cyberspace (2019-03-08)
National Defence University:
Matti Lehesjoki academic dissertation: Varusmiespalveluksen varhainen keskeytyminen terveydellisistä syistä (2018-06-08)
National Defence University:
Markus Häyhtiö´s academic dissertation: Service development in public private partnerships in the military domain : requirements management as a service performance development and measurement system (2018-06-05)
Defence Reseach Agency´s publication 10:
Juha Kukkola, Mari Ristolainen, Juha-Pekka Nikkarila: GAME CHANGER Structural transformation of cyberspace (2017-12-12)
Defence Research Agency´s publication 8:
Mikko Kiviharju: Enforcing Role-Based Access Control with Attribute-Based Cryptography in MLS Environments (2017-06-14)
Acta Universitatis Tamperensis 2279:
Maria Holsen´s academic dissertation on Operative treatment and magnetic resonance imaging-based diagnostics of knee disorders in military conscripts (2017-06-01)
Helsinki university:
Pirjo Matero´s academic dissertation on Identification of bacterial biothreat agents and pathogens by rapid molecular amplification methods (2017-05-18)
National Defence University:
Katja Koskela´s academic dissertation on Use of Molecular Methods in Biothreat Preparedness (2017-04-28)
National Defence University:
Jan Hanska´s dissertation on Times of war and war over time : the roles time and timing play in operational art and its development according to the texts of renowned theorists and practitioners (2017-04-21)
Marja Vuorinen, Tuomas Kuronen ja Aki-Mauri Huhtinen (eds.): Regime Changes in 20th Century Europe: Reassessed, Anticipated and in the Making
Abstract and information from publishers web site.
National Defence University:
Markos Mölsä´s academic dissertation on Rapid Identification of Selected Pathogens in Biothreat Preparedness

Oulu university:
Taija Lahtinen´s academic dissertation on Radio Speech Communication and Workload in Military Aviation - a human factors perspective
Defence Research Agency´s publication 6:
Arseniy Svynarenko: The Russian demography problem and the armed forces: Trends and challenges until 2035, (PDF, 2 Mt)
Soldier´s Physical Performance Symposium, Tuusula
The Training Division of the Defence Command Finland held a scientific symposium on Soldier´s physical performance on September 22 as part of the Nordic Military Sports Leader Conference. The symposium was entitled "Task-Specific Physical Requirements and Training in the Armed Forces". Presentations were given by experts from the Nordic countries, Canada and Switzerland. Participants of the symposium included Nordic military sports leaders, members of the Scientific Committee of International Military Sports Council and specialists from the Finnish Defence Forces.
Soldier´s Physical Performance Symposium: the presentations
Reserch Bulletins
Defence Reseach Agency´s Research Bulletin 1/2018: Tutkimuskatsaus 2018:1 New guidance for preparing Russian 'digital sovereignty' released (PDF, 81 kt, 2018-04-10)
Defence Research Agency´s Research Bulletin 3/2016: On war and perception of war in Russian thinking