The Athletes Became Acquinted With the Finnish Terrain in Model Event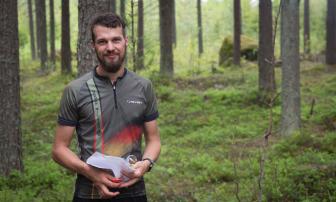 Sunday was a model event day in the World Military Orienteering Championships in Hamina. The participants familiarized with the terrain to know what kind of challenges are waiting them on the coming days.
Here are some comments from the participants after the model event regarding the Southeastern Finnish forest and upcoming week:
(Maj) Lidija Hribar and (SSgt) Miro Salamun thought that Finnish nature offers many different feelings.
- The terrain is great, but there are too many mosquitoes! The most difficult thing is when you get lost between the two control points.
It's very difficult to find your position again, the Slovenians said.
- Our goal is to have fun, to run as fast as possible and to make correct orienteering as possible, they told.
Daniel Steiger (OR4) from Germany described the terrain difficult and not fast.
- In my home country we have a lot more roads but not stones. Here the green areas in the map are also much more difficult than in Germany,
told Steiger, who is attending his 3rd World Military Championships in Orienteering.
Jordan Laughlin (Cpt) from United States finds Finnish terrains very enjoyable.
- Compared to my home terrain marshes and swamps are softer. This is also flatter than I am used to, Laughlin told.
- I'm here to have fun and to interact with the athletes from different nations, Laughlin said.
SGT Thomas Greve Jensen and PVT Lea Maria Lindberg Reime from Denmark admitted that the terrain in Hamina is more difficult than in their home
country.
- You have to look at the compass a lot. Grey areas are very fast but the green areas are challenging because you have to look at your feet
where you are stepping. At the same time you should look ahead to see where you are going. But it's fun!
- We are expecting exiting competitions. So far the organizing has been very impressive, the Danes praised.
Estonian CPL Timo Sild is one of the medal favorites in the competition.
- I like this terrain and I have some kind of home-advantage because my girlfriend's home is only seven kilometers away from here, Sild
revealed.
He gave some advice to the other competitors.
- You should you compass very much because the terrain is very flat. Rocks, cliffs and grey areas are clearly visible in the terrain. However
you should not concentrate on stones as this terrain is full of stones and not all of them are marked on the map, Sild advised.
- My goal is to make the best performances so far this season. I believe I can take a medal if I will be successive with my goal.
Finland has a seven athletes attending World Military Championships in Orienteering. Sergeants Santeri Silvennoinen and Aki Saari and LCpl
Anton Kuukka described the terrain as typical terrain in southern Finland.
- Compared to some countries we have a clear home advantage, but some experienced orienteers from top-nations have been running even more than
us in this kind of terrains, the young Finns explained.
- We have a strong team and we have chances to take a medal in all the distances, they believed.