Afghanistan RSM
Established in 2015, the NATO-led Resolute Support Mission (RSM) is tasked to support the Afghan government in achieving and maintaining a safe operating environment to facilitate society rebuilding and sustaining democratic institutional structures in the country. The overall strength of the Finnish personnel in the operation is approximately 60 persons.
Supporting the work of Afghan local authorities, Resolute Support provides assistance in planning, advising and budgeting as well as in expanding the authority of the central administration. Operation is tasked to ensure transparent, responsible and accountable governance and support for administrative processes in procedures involving, for instance, troop formation, human resources and personnel development. This support focuses on ministries, public administration and high-level security authorities. The operation's tasks do not include participating in combat activities.
The Finnish Detachment in Afghanistan includes advisors, a protection detachment, staff officers, and a national logistics and support element. Finns work in the RS's multinational Headquarters in Kabul and in the Northern Strategic Command, the Train, Advice and Assist Command (TAAC North) in Mazar-e-Sharif.
Finland has participated in the operation since its establishment.
For additional information on RSM, visit their website.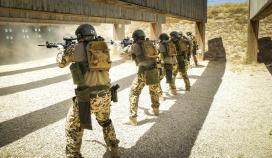 The mission of Resolute Support (RS) remains the same: train, advice and assist the Afghan National Defense and Security Forces to enhance security of the nation. Total of 39 nations have committed to the beginning of the new four-year period.