United Nations Military Experts on Mission Course starts at FINCENT
This year's first United Nations Military Experts on Mission Course started at FINCENT in Helsinki on 12 March. The objective of the 3-week UNMEM course is to train military officers who will later be serving in UN peacekeeping operations as military observers, military liaison officers and military advisers.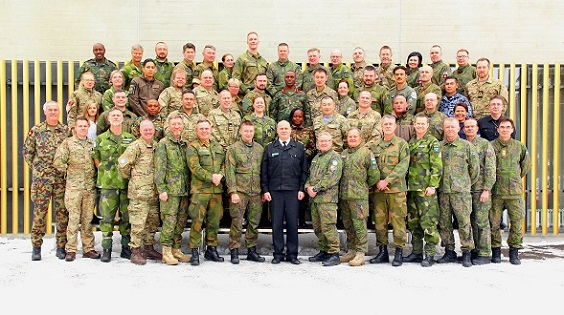 The United Nations Military Experts on Mission Course is based on a simulation of a real field mission with students arriving at the mission Headquarters for in-checking and induction training during the first course week. During the second course week the students deploy to sectors/team sites for continued induction training for newcomers.
Finally, during the third course week, the students are deployed as military observers and military liaison officers/military advisers to their respective areas of responsibility, conducting various tasks in the final field exercise, where their newly acquired skills are tested and evaluated.
International cooperation
UNMEM courses organised by FINCENT are a part of Nordic Defence Cooperation (NORDEFCO). The training is provided by FINCENT's NORDEFCO instructor pool comprising of officers from Finland, Sweden, Denmark and Norway. Additionally during this course there is an officer from Switzerland.
The student group is international as well. In addition to the Nordic countries the UNMEM 1/18 has participants from Comoros, Kazakhstan, Kenya, Mexico, Rwanda, and Switzerland.