The second week of the NATO PLOC course started well at FINCENT
NATO PLOC 2017 course aims to teach the students to be able to serve as a logistics officer at tactical level headquarters in the NATO lead Peace Support Operations. The Course schedule is a combination of lectures and related syndicate work including case studies. Addition to this the cultural program during the weekend, the possibility for physical training and "loading batteries" are a vital part of the weekly schedules.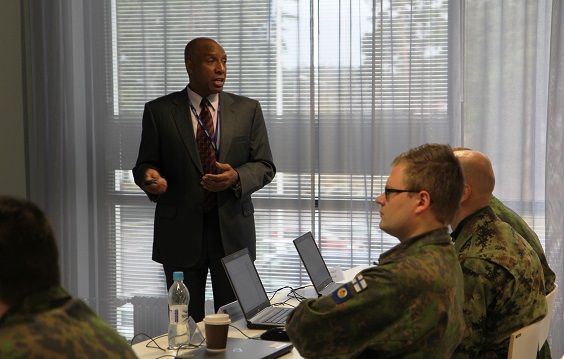 During the first week the instructors soon noticed that the 28 students from 11 countries are a good mixture of experienced and non-experienced soldiers when it comes to NATO Logistics and Peace Support Operations. The students have been very active and have performed high quality preparations, solutions and presentations during the first three syndicate works. "The visiting instructors have given their invaluable input - my warm thanks to them and all the professional instructors of this course", says LTC Juha Majala, the Chief Instructor of the course.
The second week started with "weekly wrap-up", which was conducted using computer assisted questionnaire by Kahoot! Seeing the results gave the instructors a feedback that major learning objectives of the first week were well understood and achieved." I'm convinced that the aim of the course will be reached by the end of the second week", continues Majala.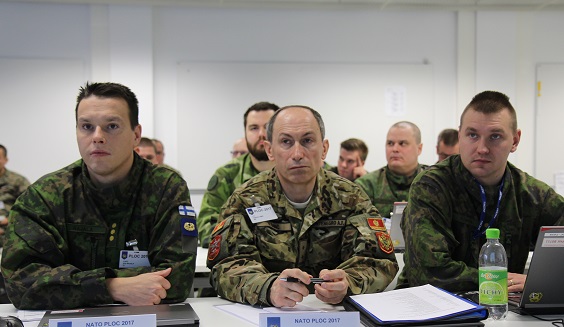 Student feedback
Capt. E. Rajala completed the Host Nation Support (HNS) training at Logistics School in Riihimäki in the spring 2017. "Joining the NATO PLOC course seemed like a very good follow-on, and I was very pleased to be accepted on this course", says Rajala. "After seeing the course program, I knew the course would be challenging and time-consuming. As the instructors presented themselves it became clear that they have a long experience of operations. I especially liked the lecture by Legal Advisor Jukka Parpala, he had a very professional view to the operations", Rajala continues.
"I look forward to learning the basics of operational planning in the NATO environment, as well as the basis for the "NATO language" with its numerous abbreviations. The course has a number of different nationalities, so especially in syndicate work we have different perspectives on the basis of experience to share. The exchange of experience and networking is certainly one of the best things on the course. I hope to meet the course participants later in the area of operation so we can evaluate the course studies at practical work", says Rajala.
"Everything has been prepared very professionally from the first contact to the arrival. The infrastructure and the lodging is very good and the instructors very professional," says LCDR R. Sawitzki from Germany. "The international composition of the students and instructors lead to a good learning climate and exchange of experience between all participants", continues Sawitzki.