Somalia´s Minister of Defence visits FINCENT
Somalia`s Minister of Defence, Mohamed Abdirashid Abdullahi visited FINCENT on 3 October 2017. The visit was hosted by Commander (SG) Jukka-Pekka Schroderus, the Commandant of FINCENT.
The main topic of the meeting was the United Nations Protection of Civilians Course (UNPOC) that FINCENT organizes every year in Finland and in Eastern Africa. Also the Quality Management System (QMS) was introduced.
The Defence Minister was especially interested in how to implement protection of civilians in Somalian National Armed Forces and African Union Mission in Somalia (AMISOM), and how to improve the training of Peace Support Operation Troop through QMS.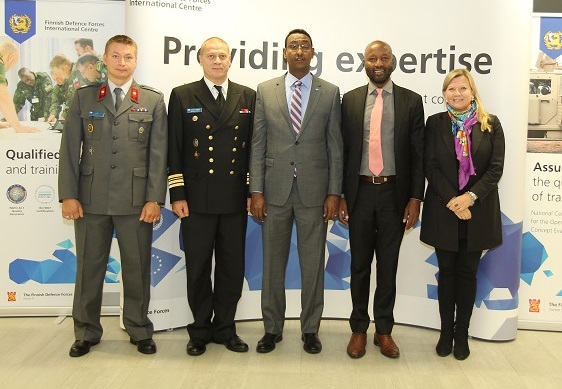 Major Janne Pekkala, Commander (SG) Jukka-Pekka Schroderus, Somalia´s Minister of Defence Mohamed Abdirashid Abdullahi, Mr Mahdi Abdi Abdile and Ambassador Pia Stjernvall, Finland´s Ministry of Foreign Affairs