Roméo Dallaire as the principal keynote speaker of the Finnish Defence Forces International Centre's Anniversary Seminar
The Finnish Defence Forces International Centre, FINCENT, celebrates its 50th anniversary. The theme of this Anniversary Seminar is "How to Respond to Crisis Management Challenges in the Future Through Education and Training ? A world - renowned crisis management veteran, Lieutenant General Roméo Dallaire, will give a keynote speech at this special seminar.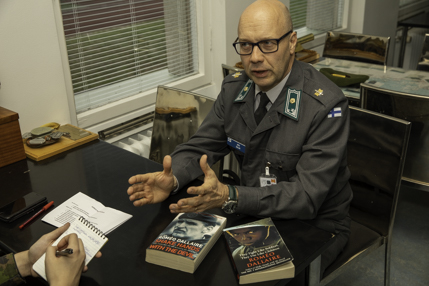 Dallaire has made a great difference to the development of crisis management
- the Anniversary Seminar is a unique opportunity to listen to Dallaire speak about his experiences and how crisis management has changed, in particular as a result of the Rwanda genocide, says Major Aku Salmi. Dallaire's opinions and experiences have had the world's attention, Salmi continues. Salmi serves as a course leader at FINCENT. He is in charge of the arrangements involving the speakers.
Roméo Dallaire has devoted a significant amount of work to the eradication of the use of child soldiers. The Vancouver Principles, created in cooperation by a number of major organizations, is a collection of political principles aimed at preventing and decreasing the use of child soldiers in the world. The Roméo Dallaire Child Soldiers Initiative, founded by Dallaire and named after him, has occupied a leading role in this work. This organization cooperates with the police, authorities and peacekeepers to accomplish its mission.
Roméo Dallaire: Lieutenant General, advocate for veterans' rights, and author
Dallaire was serving as Force Commander of UNAMIR (United Nations Assistance Mission for Rwanda) in 1994, when the genocide in Rwanda was taking place. The genocide took the lives of 800 00 people leaving a permanent scar in crisis management.
After his long military career, Dallaire has concentrated on defending things important to him, including children's and veterans' rights. Dallaire has published books on the phenomenon of child soldiers and about his personal experiences in Rwanda. His books Shake Hands with the Devil: The Failure of Humanity in Rwanda, and They Fight Like Soldiers, They Die Like Children are widely read and renowned.
Crisis management in terms bound to appeal to your emotions
Salmi believes that Dallaire's speech will, indeed, have its place in the seminar themed "How to Respond to Crisis Management Challenges in the Future Through Education and Training". Based on what he has experienced, one expects Dallaire to give a speech that will appeal to the audience's emotions.
In addition to his keynote speech, he will also give a speech specifically intended for the students of the National Defence University. His topic for the students will be "serving as a commander in a peacekeeping operation".
Follow the Finnish Defence Forces International Centre 50th Anniversary events
The FINCENT 50 years theme site has been opened. Follow the media releases at https://puolustusvoimat.fi/en/web/fincent/fincent-50-years The Anniversary Seminar will be accessible real-time at
https://puolustusvoimat.fi/en/web/fincent/live-streaming