Peace Support Operations Cooperation Course (PSOCC) completed
The students on Peace Support Operations Cooperation Course (PSOCC) 17-28 September have completed their intensive course and received their certificates after two weeks in Finland.
During the last week of the course, the skills acquired during the course were put to the test in a final exercise. In the exercise, the student officers, police and civilians worked together in Joint protection Teams (JPT) to meet different organizations and stakeholders in a fictive scenario.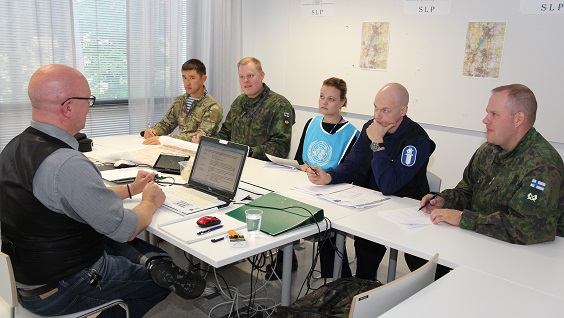 The joint exercise is a response to the fact that in today's global world, conflicts and crises have become multidimensional and complex. Peace support operations involve both military, police and civilian actors engaged with different responsibilities and operating within different timeframes in the same crisis area.
The purpose of the joint course on the PSOCC course is to enhance understanding of an integrated approach to crisis management, as well as to improve collaboration and coordination between military, police and civilian crisis management organizations.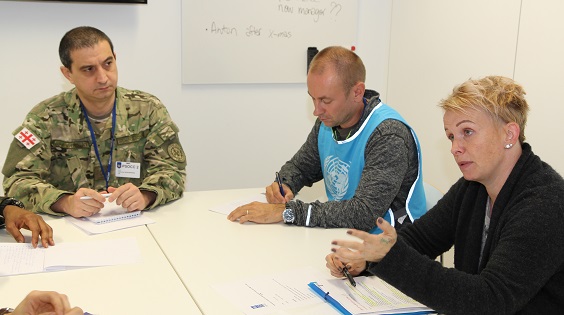 Every exercise is followed by a feedback session, where the teams evaluate their own performance, the students reflect on their own actions, and the instructor sums up the feedback. This method enables the students to learn quickly in a short period of time.
FINCENT gathers written feedback at the end of the course. The written feedback is collected through an internet survey, which allows the feedback to be analyzed in a very short amount of time. Therefore, the students receive a general summary of their answers before they depart the course. The analysis also enables FINCENT to revise and renew the course content and training methods after every course, if necessary.
The date of the next PSOCC course will be informed later at FINCENT webpage.