NORDEFCO Peace Support Operations Cooperation Course is ongoing
Twenty-seven students representing eight different nationalities are participating in the NORDEFCO Peace Support Operations Cooperation Course at the Finnish Defence Forces International Centre located in Helsinki, Finland.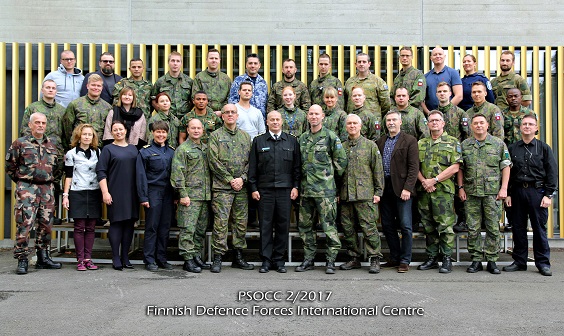 The objective of this 12-day PSOCC course is to prepare military, police and civilian personnel for coordination, cooperation and Iiaison tasks , at a tactical level, in Peace Support Operations Ied by UN, AU, EU or NATO. The student will develop and improve skills with emphasis on coordination, cooperation and liaison in order to be able to work effectively in a multicultural environment and enhance interoperability within the peace support community.
The course consists of theoretical lectures, case studies and practical exercises fostering the participants' understanding of the different concepts and approaches used in peace support operations. The course culminates in a final exercise in which the participants will get to apply the wide array of methodologies and skills they have acquired in the classroom.
The course is conducted at FINCENT within the framework of Nordic Defence Cooperation NORDEFCO. The course period is 18 to 29 September 2017.