Military Contribution to Peace Support Annual Discipline Conference at the New NATO Headquarters
The Annual Discipline Conference of NATO Military Contribution to Peace Support has just started at the new NATO HQ in Brussels, Belgium. FINCENT, as the Department Head for this education and training discipline, has invited a broad audience of key stakeholders and education and training facilities to this third consecutive Annual Discipline Conference.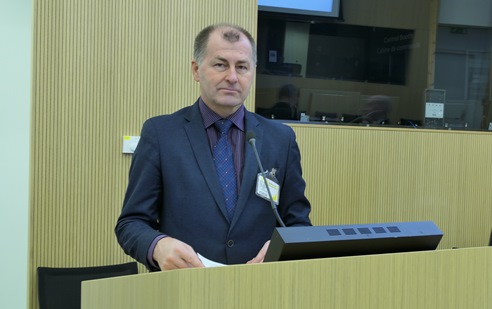 The Rector of the Finnish National Defense University, Major General Jari Kallio, opened the conference. He highlighted the need for broader cooperation and collaboration among different stakeholders.
"Peace Support is a complex and challenging Discipline, but it is one in which it is natural that all the key stakeholders combine their efforts and work together. Building bridges between the organisations has also been our aim as the Department Head from the beginning."
Kallio praised FINCENT and the whole community for the work done, and also mentioned some of the highlights from this year.
"As the rector of the Finnish National Defence University it gives me great pleasure to have a unit like FINCENT as part of the university on a shared campus in Helsinki. As some of you might know, FINCENT received a special recognition from the Joint Force Trainer for outstanding commitment as Department Head in June this year. It also recognition to the whole Military Contribution to Peace Support Discipline community."
"As an example of the multinational and -organizational collaboration, I'd like to highlight the efforts of all the different stakeholders, organizations and academia that created the Protection of Civilians course for NATO or UN-led operations. No single entity can achieve so much in a short time on their own. So we thank you all for your contribution – we did it together, and we can all benefit from it".
Concluding his opening remarks, Kallio stressed the importance of the network-based working method and wished all present a successful conference.
"We need to increase the amount of our network-based work, and to make sure that our education and training is effective, efficient and affordable for all of us. I encourage us all to use the tools that NATO has provided, namely the Global Programing and Systems Approach to Training. These are necessary not only for the military contribution to the peace support discipline, but for working closely together with other disciplines".
The conference continues until Friday 30 November, and the desired main outcome will be the Discipline Alignment Plan which will reflect the major developments and achievements and outline the way ahead with respect to the Military Contribution to Peace Support both in a NATO and non-NATO environments.
Read the whole speech here.