FINCENT present at the Marketplace in NATO HQ in Brussels
FINCENT has been an active member of the PTEC (Partnership Training and Education Centres) community since 2001. Among other things the community arranges Market Places to promote the activities and education and training opportunities arranged collectively or individually in the Centers. This year the Marketplace took place in NATO HQ in Brussels on 12th October.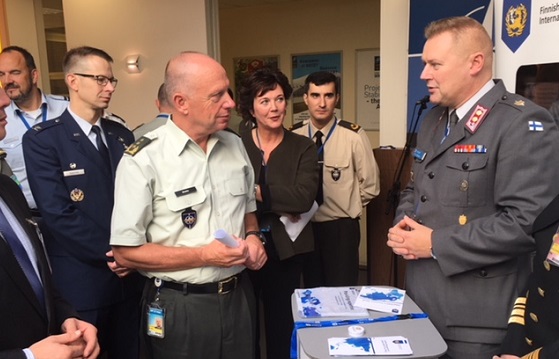 NATO School Commandant, U.S. Col Timothy E. Dreifke (left) and LtGenl Jan Broeks, Director General of NATO's International Military Staff (middle) talking with LtCol Hannu Mattinen, FINCENT
FINCENT promoted training opportunities for 2018 and as a new amenity for the community a Quality Management System Mobile Education and Training Team-concept. FINCENT appreciates such occasions also for utilizing the network knowledge capital for the benefit of the whole community. Twenty-four out of thirty-one Partnership Training and Education Centres were presented. More info about the Market Place 2017.
More info about PTECs at act.nato.int/ptecs.