MC2PS Guiding Concepts Workshop in the USA
FINCENT, as a NATO Department Head for Military Contribution to Peace Support, conducted a workshop in Carlisle, Pennsylvania, United States in 9-11 May 2017
The workshop concentrated on advancing guiding concepts for the Protection of Civilians (PoC) in armed conflict as well as integrating the Women, Peace and Security (WPS) agenda.
Work focused on conducting preliminary task analysis and identifying existing training solutions in both civilian, military, and non-governmental educational institutions. The U.S. Army War College Peacekeeping and Stability Operations Institute (PKSOI) hosted and chaired the event. Lieutenant Colonel Andreas Heselschwerdt of PKSOI acted as a chairman, assisted by Senior Advisor Virpi Levomaa of FINCENT. Many subject matter experts from various organizations gave their valuable knowledge for the workshop's use.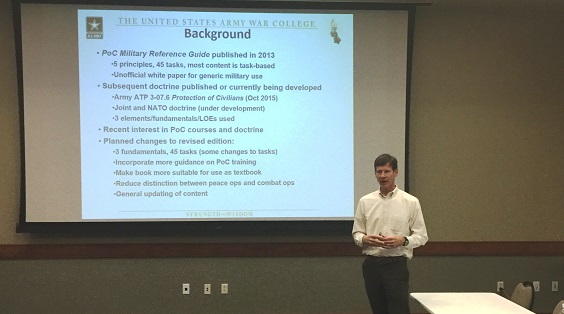 Mr. Dwight Raymond presented the U.S. concept of Protection of Civilians (picture above). Mrs. Sarah Williamson from NGO Protect the People presented an analysis of the differences and commonalities of the UN, NATO, and U.S. Department of Defense PoC concepts. Commander Bradley White from Supreme Allied Commander Transformation (SACT) briefed on the latest developments on the NATO PoC concept development. FINCENT is most grateful for the inputs of all the participants to the event.