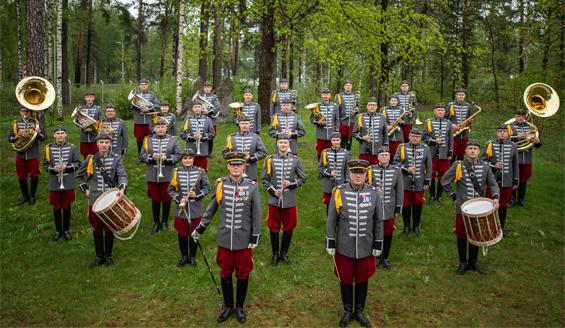 National Parade on the Flag Day 2021 of the Finnish Defence Forces
Like last year, the Flag Day of the Finnish Defence Forces on 4 June will be celebrated with an alternative programme, respecting the dignity of the Day.
A concert performed by the Dragoon Band, broadcast live on Yle channels (Finnish Broadcasting Company), will make up the main event of the Flag Day. You can watch the rest of the programme on the Defence Forces social media channels. Yle will broadcast a compilation of the Day's events in the afternoon.
The Day's official programme starts with the raising of the Finnish flag in Mäntyniemi, the official residence of the President of the Republic, Commander-in-Chief of the Finnish Defence Forces. The raising of the flag will be followed by a wreath-laying ceremony in Hietaniemi cemetery. This is the first time the Flag Day ceremony, hosted by the Commander of the Defence Forces, will be organized for the whole personnel. In addition to the personnel, cooperation partners of the Defence Forces will also be invited to this virtual celebration organized at Mannerheim Museum.
A live concert will air on The Finnish Broadcasting Company's (YLE) channels (Yle TV1, Yle Areena, Yle Radio Suomi) at 11am on 4th of June.