Hamina Tattoo 2022
Monday 11.7.2022 at 12.00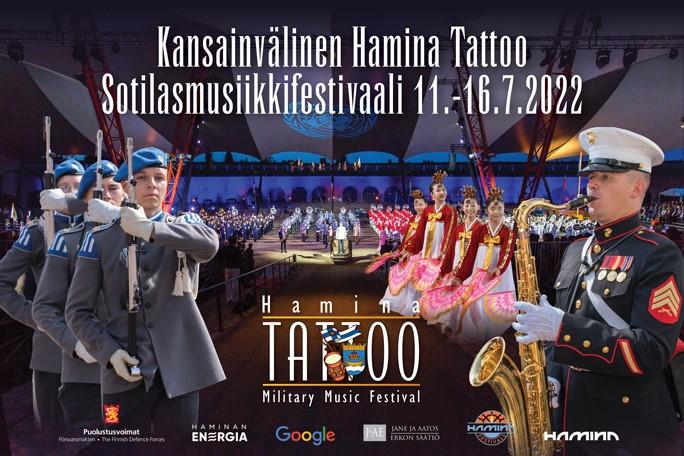 Hamina Tattoo will take place from 11th to 16th of July 2022.
The international Hamina Tattoo is a military music festival which has already become a tradition. The historical fortress town of Hamina creates a magnificent setting for the event. During the Tattoo week, the streets and parks of the town are filled with audiences which can enjoy the concerts, parade and fantastic March Shows by the military bands.
More information can be found on Hamina Tattoo's website: https://www.haminatattoo.fi/en/
During Hamina Tattoo on 13 –16 July 2022, you may familiarise with the Finnish Defence Forces' activity at the Finnish Defence Forces' event field. Situated in front of the Reserve Officer School Main Building along Kadettikoulunkatu, the event field will again be available Wednesday through Saturday at 12–19.
You may familiarise with, among others, Finnish Army, Navy and Air Force conscript training and activity, as well as Army equipment, plus enjoy marvelous musical performances by Finnish Defence Forces' military bands. Also, the Southeast Finland Regional Office will be available for discussing matters relating to liability for military service. And the Soldier's Home Canteen will have their salespoint on site too.
Additionally, a Finnish Navy fast attack craft will be on display at Tervasaari pier from 11 to 16 July.
Programme at the event field can be found here: https://puolustusvoimat.fi:8443/en/the-finnish-defence-forces-event-field
Target groups: media, citizens
---