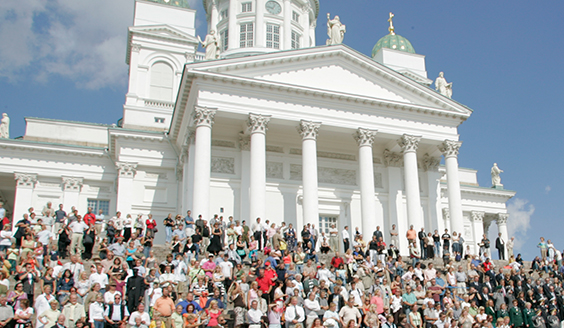 Finnish Defence Forces 100 Festival in Helsinki
Celebrating its 100-year-long existence, the Finnish Defence Forces will organise a public event themed 'National Defence is everybody's business' available to everyone free of charge at the Senate Square in Helsinki from 30 May to 4 June 2018.
Offering plenty to experience, this festival will sport as its main display area the Senate Square that will be open to the public from 30 May to 4 June 2018 from Wednesday to Sunday daily at 10-18, and on Monday at 10-16. The display points available in a bespoke tent will feature Finnish Defence Forces' personnel, conscripts and reservists as well as representatives of national defence associations.
This festival will also include an equipment display as well as tailored demonstrations, and offer a chance to give a Hornet simulator a try. Moreover, the daily treats will comprise musical performances by versatile military bands, and on Sunday 3 June the Finnish Defence Forces' Conscript Band will feature Diandra as its soloist. In addition, a series of interviews will be available highlighting the experiences and views of conscripts, personnel, and national defence specialists.
Apart from the main display area at the Senate Square, the venues will include the Eteläsatama Harbour's Pier of Pakkahuone display of a Hamina class fast attack missile craft from 2 June to 4 June. Moreover, the Military Museum in Suomenlinna houses a special exhibition, 'A hundred years of work during war and peacetime' focusing the history of the Finnish Defence Forces, free of charge until June 6th.
On Saturday 2 June this Festival will also extend to Santahamina, the Guard Jaeger Regiment and National Defence University, as well as the Naval Academy in Suomenlinna as part of the Finnish Defence Forces Visitors' Day. This day's highlights will include an Utti Jaeger Regiment parachute jump with the Finnish flag from an NH90 transport helicopter at 14:50 onto Kaivopuisto, followed by a Hornet solo flight as well as an airshow by the Midnight Hawks aerobatics team off Kaivopuisto, weather permitting. Air Force flying display cause noise.
Finnish Defence Forces Visitors' Day in the Guard Jaeger Regiment, Santahamina, and in the Naval Academy in Suomenlinna (in Finnish)
Traffic arrangements
The Senate Square area will be most accessible by means of public transportation since exceptional traffic arrangements catering for assembiling and disassembling the displays will apply in its vicinity from 29 May to 4 June.
Festival week in social media
You will be able to enjoy the Finnsh Defence Forces 100 also online in social media by #pv100. During the course of the Festival, the best photos published on the Instagram by #pv100kuva will be daily awarded.