'Women, peace and security' action programme steers also the Finnish Defence Forces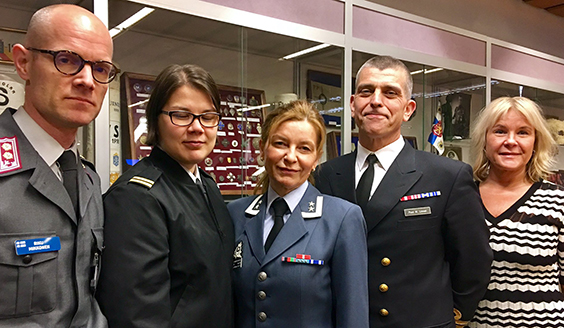 The Defence Forces promote gender equality and non-discrimination in accordance with the principles of the 'Women, peace and security' action programme. Action programme 1325 for the years 2018-2021 launched by the Finnish Ministry for Foreign Affairs is based on resolutions of the UN Security Council.
In the activities of the Defence Forces, equality and non-discrimination are bearing principles. An equal environment for work, studies and service is everyone's right. Employees and conscripts are trained to uphold responsibility for these principles at everyday level, in every workplace and every unit as well as in military crisis management duties. The non-discriminative treatment of employees and persons liable for military service is a basic prerequisite for multiform work and service requirements.
The Defence Forces' Nordic Centre for Gender in Military Operations (NCGM) operates and provides training in the gender perspective within the framework of the joint Nordic Defence Cooperation (NORDEFCO). The Finnish Defence Forces International Centre FINCENT arranges courses in military crisis management for crisis management operations led by the United Nations, European Union, African Union and NATO. FINCENT conducts research relating to the gender theme in cooperation with the National Defence University.
Finland's third national action programme 1325 Women, peace and security will be launched at the House of the Estates in Helsinki on 13 April 2018. In accordance with the earlier two, the third action programme continues to promote equality, non-discrimination and peace. The actors of civilian society both in Finland and in crisis areas play an important role in the fulfilment of the action programme.
You can follow the launch or the Ministry for Foreign Affairs' 1235 action programme on 12 April 2018 from 9:00-10:30 live online at https://formin.videosync.fi/launch-of-finlands-national-action-plan-on-women
The Defence Forces' work in the field of equality and non-discrimination.