Renewed NORDEFCO Peace Support Operations Cooperation Course Successful
Bringing together military, police and civilian students, the NORDEFCO Peace Support Operations Cooperation Course (PSOCC) was organized for the first time following the new curriculum. Participants were extremely satisfied with the course.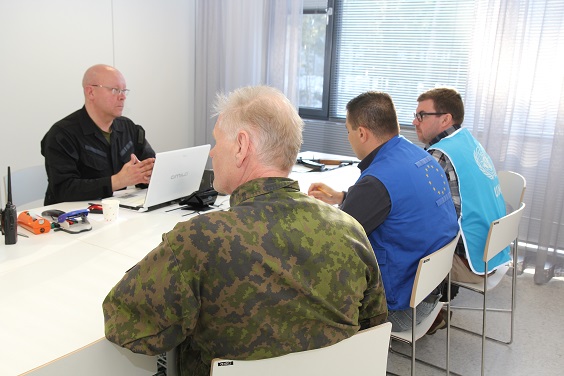 The PSOCC is a tactical-level course previously offered only to liaison officers. The need to improve the PSOCC came from the field, where most crisis management operations are integrated, meaning that military, police and civilian personnel work together.
By offering a comprehensive approach, the renewed PSOCC provides new viewpoints, experiences and ways of thinking. The biggest change is that the PSOCC is now open to all military, police and civilian participants and the new curriculum includes all of these three perspectives. This way, students have the opportunity to learn from each other, gain experience on cooperation and be better prepared for working in integrated operations.
The group of skilled and experienced instructors and the good ambience among them was another reason for the successful course. The students appreciated especially the instructors' hands-on and practical approach that came across in case studies and practical exercises. Together the students achieved the new learning objectives and the feedback from the students was excellent.
FINCENT arranged the PSOCC in Santahamina from 30 January – 10 February 2017. There were in total 25 participants (11 military, 6 police and 8 civilian) from six different countries.
For further information about the PSOCC, click here.