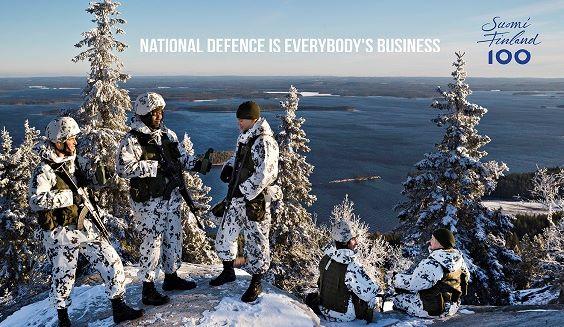 The Finnish Defence Forces' Finland 100
The theme of the Finnish Defence Forces' Finland 100 Jubilee Year is National defence is everybody's business.
The national parades of 2017 will be arranged on 4 June in Helsinki and the Independence Day parade on 6 December in Kuopio.
The Flag Day parade on 4 June marks the beginning of the Defence Forces' Finland 100 Summer Tour. The tour will start in Helsinki and will visit 16 cities during June and August with Rovaniemi as the northernmost, Joensuu as the easternmost and Vaasa as the westernmost city. The tour will end in Turku on 26 August.
In connection with these events, the public will have the opportunity to become familiar with present day military service for men and voluntary military service for women. It will also be possible to visit equipment exhibitions and see military displays arranged by the local brigade-level units. The Summer Tour's evenings will end with open air concerts suitable for the whole family performed by the Finnish military bands.
The Defence Forces' Finland 100 Jubilee Concert will be arranged in the Musiikkitalo Music Centre on 21 November. Also in the centre of Helsinki, a traditional Guard Parade will march from the Senate Square via the Market Square and Main Guard Post to Kasarmintori on Fridays. Different concerts will also be arranged on the stage in the Esplanade park. The Defence Forces will also participate in the main celebration of Finland's National Veterans' Day arranged by the City of Lahti on 27 April.